Show notes
In diesem Podcast spricht Björn Brundert mit Jens Kögler, Healthcare Industry Director in EMEA bei VMware, über die Entwicklungen im Gesundheitswesen und welche Rolle Technologie dabei spielt, das Gesundheitswesen zu verändern, um die Patientenversorgung zu verbessern und von einer reinen Krankenversorgung hin zu einer Gesundheitsvorsorge zu kommen.
Zeitstempel:
2:10: Rückblick auf die letzten 2 Jahre
2:49: Welches sind die zentralen strukturellen Probleme
6:17: Wie kann Technologie unterstützen
9:40: Von der Krankenversorgung zur Gesundheitsvorsorge
12:35: Plattformtechnologie zur Verknüpfung von Daten
14:22: Die elektronische Gesundheitskarte
17:39: Was sind DiGAs
19:05: Das Krankenhauszukunftsgesetz
21:40: Cyberangriffe auf das Gesundheitswesen
33:01: Stellenwert von Daten und deren Nutzung
34:45: Beispiel für Technologieeinsatz bei Mercy Ships
38:43: Herangehensweise für eine Digitalisierungsstrategie
Weiterführende Links:
Hosts
Björn Brundert
Principal Solution Engineer, Application Platforms | Office of the CTO, Global Field at VMware --- Bjoern Brundert is a Principal Solution Engineer with focus on Application Platforms at VMware. As part of this role, he works with a variety of customers across different stages and industries on their digital transformation journey to cloud-native applications and platforms, mainly based on Kubernetes and Cloud Foundry. Bjoern is also part of VMware's Office of the CTO, Global Field organization and facilitates continuous feedback between VMware R&D, VMware's field organization and customers across Europe. Bjoern joined VMware in 2010 and has focussed on Virtualization, Cloud Computing and their implications on people and processes inside large organizations across industries. He is a regular speaker at industry events, user group meetings and meetups as well as other VMware-internal and public events. ---- LinkedIn Profil: https://www.linkedin.com/in/bjoernbrundert/
View episodes
Guests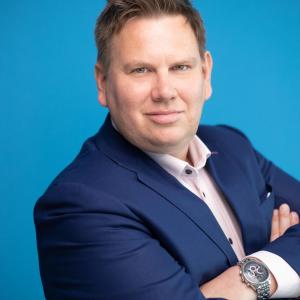 Jens Kögler
Jens Koegler ist VMwares Healthcare Industry Director in EMEA. Er unterstützt unsere Kunden im Gesundheitswesen bei der Entwicklung und dem Betrieb moderner Anwendungen, um Innovationen voranzutreiben und eine bessere Patientenversorgung durch eine digitale Infrastruktur zu gewährleisten, die Rechenzentren, hybride Cloud-, Mobil-, Netzwerk- und Sicherheitstechnologien umfasst. Jens spielt eine Schlüsselrolle, wenn es darum geht, Kunden dabei zu helfen, zu verstehen, wie neue Anwendungen, Geräte, die neuesten IT-Technologien und die digitale Transformation, Innovationen im Gesundheitswesen vorantreiben.
View episodes